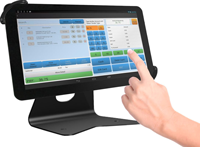 99point of sale(POS)
About
POS software is what brick and mortar retailers use to conduct sales. It's sometimes a cash register, computer, or even an iPad where cashiers input your products, tally the cost, and conduct the financial transaction. Most POS software will also communicate with inventory levels to keep everything in balance.
Our speech
99pos software point of sale system (POS) is a combination of software and hardware for checkouts that allows merchants to take transactions and simplify key day-to-day business operations. 99pos software Systems are utilized in many different industries, ranging from restaurants, hotels & hospitality businesses, nail/beauty salons, casinos, stadiums, and the retail environments

99pos software which provides a business with a cash register system. Use this cash register software to store product information and speed up the checkout process for your customers and bisnes.

99pos software manage all key aspects of your business with our professional and affordable high quality Invoice software and Point of Sale (POS) software solution. The POS Assisant is a multi-user distributed inventory and point-of-sale system. You can run the POS Server on any machine on a network and run multple POS Clients from remote machines. It will also run on a single machine. 99pos software easy to setup, and very easy to learn INVOICE system and POS system with powerful features. Point of Sale, Receipt, Invoice, Quote, Packing List, Customer Sales History, Inventory, Bar Code Scan, Product Word Search, Customer Phone Number Search, Receipt Printer with open Cash Drawer, Print Labels, Mailing Lists, Various Reports, Download Reports to Excel, Network Compatible, Security features and Touch-Screen POS option. Manage all key aspects of your business with our professional and affordable high quality Invoice software and 99pos software solution.
Imonggo Hardware Compatibility
99pos can readily work without any extra hardware. But for convenience, you may choose to add hardware like receipt printers and barcode scanners.
Receipt Printer
You may use a regular printer or a POS receipt to print your receipts
Barcode Scanner
The barcode scanner is useful to speed up the checkout process. Most barcode scanners that are plug-and-play compatible can be used with 99pos.
Credit Card Processing
99pos software integrates with Authorize.net for credit card processing. Just apply for an account with the credit card gateway, and you are good to go.
99pos software supports most credit card readers that are plug-and-play compatible. No troubleshooting needed.
It is easy to set up your account with Authorize.net.
ANYTIME ANYWHERE
99pos software is web-based, so you can access your data anytime, anywhere. It is not platform dependent, so you can use Mac, Windows, or even Linux. You can even go mobile! It's all up to you
UNLIMITED GROWTH
99pos software is scalable and can support multi-store set-ups with no limit. And since it is cost-effective, you don't have to break the bank to maintain your account. Growing your business has never been more efficient.
Overview
99pos software makes it easier than ever to start & grow your business.It Use to sell your products in-store, at pop-up stores, markets and even online.The best part is that with all sales channels combined, your data is centrally located, inventory updates are in real-time and order processes remain consistent.

You can start selling online in minutes with 99pos software eCommerce and there is no additional setup required. Your products, orders and customers are instantly synced with your point of sale, so you never have to worry about updating two sets of inventory in 99pos software.