Make Your Video From 99Software
An experienced video project manager from 99Software Agency works closely with you at every step of the video production process to ensure that you are satisfied with the results and that your content is delivered on time and within budget.
Goal and style:
The first step is to analyze the goals of your video and budget to determine the creative video style and the costs that meet your needs. Our extensive galleries of award-winning customer videos that have been awarded awards can help you choose the style you want.
Concept and script:
Once the chosen video style and budget are approved, we will work on the concept of marketing and scripting. Some clients already have a clear script and concept while others know their goals, but prefer that they develop the script and audiovisual concept for them. In any case, it is important to have a thorough conceptual discussion before starting the scripting process. Scripts are usually the most important aspect of the video production process, so there are often several sets of script changes to the storyboard.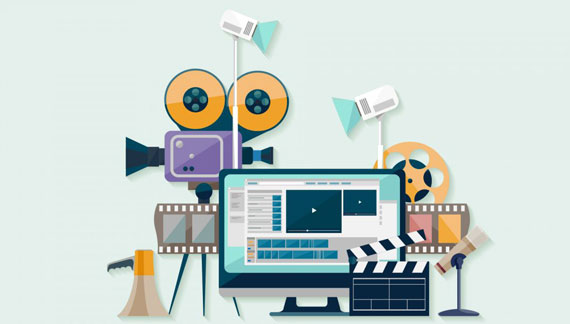 Audiovisual scenario:
Once the script is approved, we will develop an audiovisual descriptive script that matches the script with visual descriptions. Images can be animated animations, animations, B-roll sequences, pictures, animated text or live action sequences. For moving graphics and animated explanatory videos, we create an animated "storyboard" with artist representations of the images that will be created later in the video. Before the creative video production starts, a storyboard approval is required.
Actor or vocal talent:
Once the AV storyboard has been approved, the customer selects the speaker or voice talent used for the video. We have a large selection of vocal talents and talented speakers, including many foreign languages and accents. Voice talents or radios are recorded to match the inflections of the storyboard.
Video Production:
When vocal talent is produced, we choose and / or create the images for the video. These can be animations, animated 2D or 3D graphics, live shots, B-roll serial material, archive images, animated text, or a combination of these. The audio voice is combined with the visual elements to make a draft of the video for review.
Post-production editions:
This is the last step in the video production process. Once your video has been created with all its elements, it is usually edited based on customer comments and feedback. You can also select and add a song during post-production. Post-production usually involves one or two issues prior to final approval and presentation in a format most appropriate to the intended use.
Free lifetime Support
Prices for the production of corporate videos and communication services:
We offer flexible and affordable pricing for web video production services, corporate communications campaigns, and employee ownership tools. No aggressive sellers, only excellent results on time and in the budget.
For quick answers to pricing and service questions, please call us +88 01717 520979
Our video production services include:
Video Marketing Strategy
Scripting and editing
storyboard
Simple and multi-camera camera photos
Professional video and lighting equipment
video editing
3D and 2D graphics
Graphics in motion
Graphics and illustrations for the graphics department
color correction
Voice overs
Videos are fully compatible with ADA
Multilingual videos with subtitles
Video Hosting
video distribution
We have experience in creating all kinds of videos for our clients, including:
explanatory videos
Interview videos
Company Overview / "About" Videos
Testimonials Videos
Announcements and fundraisers
Video headlines and backgrounds
instructional videos
Advertising and short promotions
videos
Video production is the process of producing video content. It's the cinema, but with digitally captured images instead of movies. There are three phases of video production: pre-production, production and post-production. The pre-production includes all aspects of planning the video production process before shooting begins. This includes script, programming, logist Today, most video content is captured on electronic media such as consumer camera SD cards or solid state storage and professional camera flash memory. Digitally distributed video content often appears in popular formats such as Moving Picture Experts Group (.mpeg, .mpg, .mp4), Quicktime (.mov), Audio Video Interleave (.avi), Windows Media Video. (.wmv) and DivX (.avi, .divx).
Types of videos:
There are different types of video production. The most common are movie and TV productions, TV commercials, web ads, corporate videos, product videos, customer referrals, marketing videos, event videos, and videos. the marriage. The term "video production" is reserved exclusively for the production of content in all phases of production (pre-production, production and post-production) and is created taking into account a specific target group. A person who falls from capturing the store into the category of "home video" films a concert or lecture of his son with a smartphone or video camera for the sole purpose, not in video production.
pre-production
At 99software Productions International, we believe we have to do everything right from the start: this step is fundamental to delivering the perfect video solution. It is the essential basis for saving time and money.
We work closely with you to understand your expectations and to create a specific work environment that sets expectations, direction and timing to ensure that we not only meet your expectations, but exceed them. Once the project goals have been completed, production planning begins. We help you develop your ideas in a detailed production script and discuss options for elements such as video sound, voiceover, graphics, and branding. Once this is done, we can begin planning the shoot dates and all the required site visits.
Post-production:
We offer you the ability to select specific production services or, depending on your production needs, to customize a complete production package before or after the video. So we take care of your concept project under one roof, from the scripts to the delivery.
The video production phase includes our fully-equipped production team, which captures the required high-resolution images and any other media that make up the finished video. Depending on the project requirements, special transmission equipment may be used. We do not just show and shoot. Our production uses a variety of recording styles and techniques to ensure that you receive a first-class end product that attracts viewers and accurately communicates your message.
Production:
Let the magic begin ... Our video editors are trained to use the latest techniques and software. During this phase, our creative team will work with the final script, approving the editing of the footage and integrating all animations, animated graphics, storytelling, special sound effects, background music, and more.
Then a preliminary version will be available for your review in our studio or we can send you a private electronic link. If some revisions are necessary, we'll do it until you're satisfied. After approval, the final master files are prepared, tested and packaged. We offer various file formats: transfer, DVD, multi-format video files, etc.